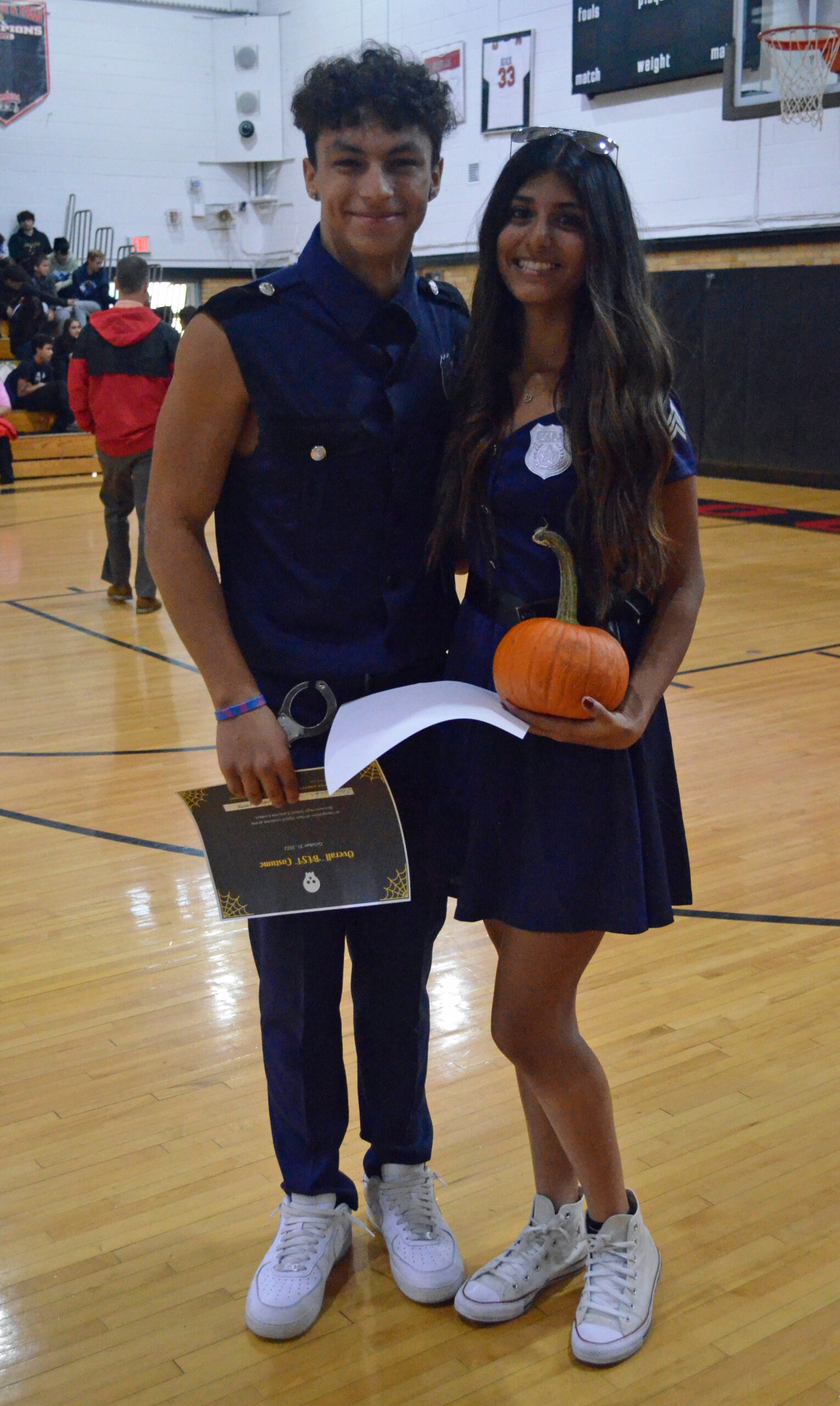 Read Time:
1 Minute, 53 Second
Law enforcement may be in Brandon Martinez's future. And, there's a chance, too, that Tania Zeb will seek out a college major related to police work.
That's why it was fitting that they took first overall in the 2022 BHS Halloween Costume Contest and, for one day, the juniors patrolled the halls and classrooms, helping to keep the peace.
"They're costumes we just saw and bought," said Martinez, who is in the law enforcement academy.
Zeb said the winning ensembles were "a last resort" and were chosen because they "were cute."
In the end, the story behind the choice of costumes didn't matter because they gained the attention of the judges. Martinez's outfit featured a sleeveless shirt while Zeb, possibly interested in being a detective, was in a dress.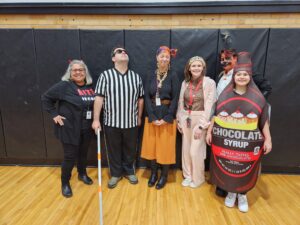 Jimmy Cunningham, a freshman, was attired as a scarecrow. Makeup, which was applied by his mother, however, transformed him into a scary scarecrow.
Cunningham hoped to be a cat but the costumes were sold out at Spirit Halloween so he went with one of his other choices.
Teachers took part in the contest as well, dressing up as a variety of things, including a blind referee, Alice in Wonderland, a gypsy, a penguin and a duck.
Olivia DiTrolio was a Cheetah Girl again, the same as she was as a first grader and garnered an award for the funniest costume. DiTrolio, a history teacher, loves holidays and counts Halloween as her favorite.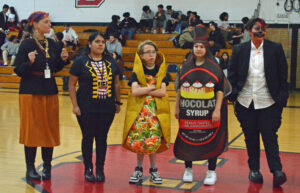 DiTrolio was Chanel, played by Adrienne Bailon in the 2003 Disney movie which later became a series. She donned a velour sweatsuit purchased at TJ Maxx, her own turtleneck and a headband she bought on Amazon.
"This is a better outfit than the one I had before," she joked. "I'm going to use it over the winter."
Another history teacher, Tiffanie Henry, was Eddie from "Stranger Things" and received a certificate for being the most original.
The festivities also featured a mummy race in which Mr. Klebez and three teachers – each one representing a class – were wrapped in toilet paper by students before running toward the finish line. Mr. Klebez won the race, just ahead of Mr. Engelberger. Also competing in the race were Ms. LaPlaca and Ms. Olivo.