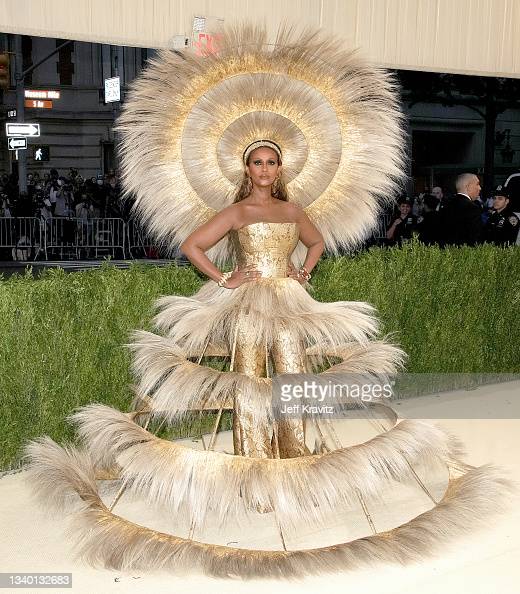 Read Time:
2 Minute, 40 Second
Every year, celebrities look forward to attending the annual Met Gala, which is hosted by Anna Wintour, the editor in chief of Vogue. Hollywood stars, as well as fashion designers, dress up for the given theme, and are definitely out to impress.
The 2021 theme, "In America: A Lexicon of Fashion," focused on the development of American fashion throughout the years. Some of the celebrities who attended the Met fit within that theme, while others were questionable. Here are a few of the best and worst looks from this year's Met Gala…
The Best
Iman
Iman's look was by Harris Reed and definitely caught everyone's attention. The supermodel wore a corset-like pantsuit, which was already show stopping, but, in addition, she had on a matching hoop-skirt cage and headdress.
Another key part of her attire was a giant headpiece that resembled a blazing sun. A few accessories completed her look. Overall, her outfit was stunning and fit this year's theme since it was inspired by the 18th century dress cages as well as the 1920s showgirl look. 
Lupita Nyong'o
Lupita Nyong'o took denim to a new level with her beautiful Versace Jeans Couture gown along with her bold makeup look. She was inspired by denim material, which is one of the most iconic fabrics in American history.
Nyong'o's stylist, Micaela Erlanger stated, "In the '90s, Versace dominated the magazines with their Versace Jeans Couture collection." To top it off, she wore diamond jewelry that sparkled and created a statement. Her hair was masterfully styled, showing off her natural texture at any angle.  
The Worst
Kim Petras
Kim Petras showed up to the Met Gala in a Collina Strada dress that emphasized a 3D horse head, as well as a dramatic panniered skirt. The designer behind this look, Hillary Taymour, stated that she used to be an equestrian fanatic and was a "horse girl in a past life."
Many people viewed this look as "odd" and couldn't understand the significance of the horse and how it related to the Met Gala theme. Petras stated that she's repping " all horse girls and horse humans here today" and said that her look was inspired by her younger self's love of horses.
Kim Kardashian 
Kim Kardashian caught everyone's attention with her outfit, which definitely made a statement and became a meme on the internet. She wore a black Balenciaga haute couture gown with a matching train and mask that covered her face completely.
This look was very different from what Kim or anyone else has ever worn on the red carpet. Sources said that her look was probably inspired by Kanye West, her ex-husband, since he was spotted multiple times wearing ski mask-like face coverings that resembled what Kim wore to the Met.
People on Twitter questioned her look and stated things such as "not only is it not in theme but it's not even cute." Hitting back at the critics, Kim later shared a picture of her look on Instagram along with the caption, "What's more American than a T-shirt head to toe?!" Her outfit definitely rewrote the rules for the upcoming red carpet looks.