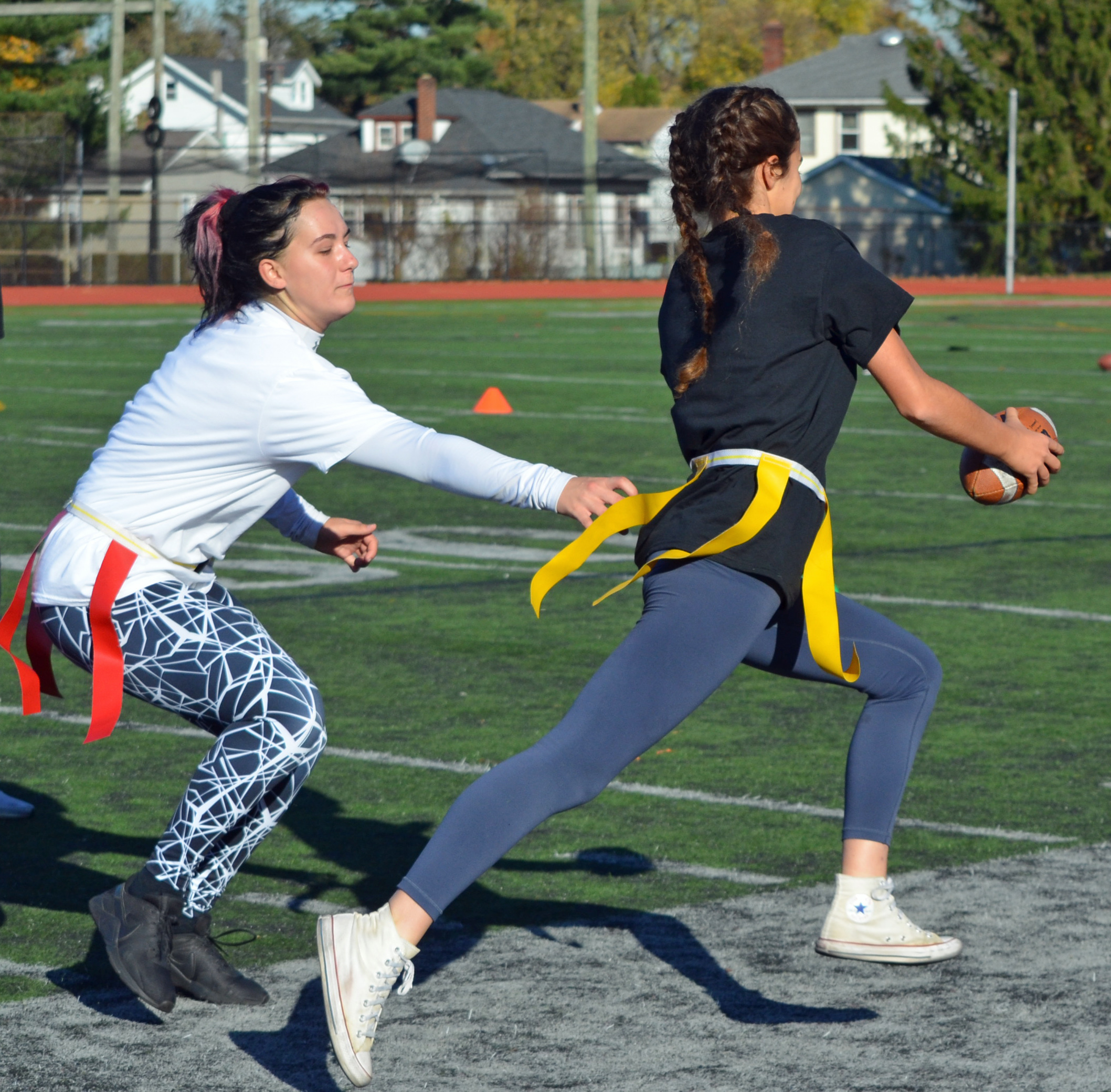 Read Time:
2 Minute, 29 Second
Arianna Jackson-Wach stood out for the seniors in the 2022 Powder Puff Football Final but she's quick to say it wasn't just her.
"It felt great for the seniors to win, especially because it was our last powder puff," said Jackson-Wach. "The seniors had a great coaching staff and a deep bench for both offense and defense. Shoutout to our great quarterback, Amanda Tuohy, as well."
The seniors, with Jackson-Wach scoring twice in the championship game and once in the semifinals, defeated the juniors before the entire student body and faculty on Wednesday, Nov. 9. Jackson-Wach, with her outstanding speed and dexterity, was a threat to break away or score every time she touched the ball.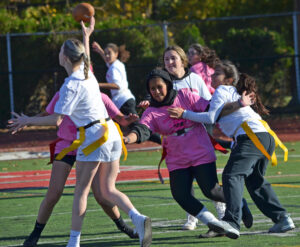 "I play soccer, basketball and softball so it allows for better hand-eye coordination and agility, allowing me to succeed in the football game," said Jackson-Wach, a fan of the New York Jets.
It was a repeat of sorts for the seniors, who earned the title as juniors by riding the talents of a fine group of athletes.
The juniors were led by Amaya Campbell, who scored three times over the two games. Like Jackson-Wach, Campbell is a three-sport athlete and competes in soccer, basketball and softball.
"We all played a really good part and contributed, even if it was small," Campbell said.
Campbell, hoping to play basketball in college, attributed her solid performance to having "quick feet" and "being able to catch the ball very often."
Elena Naumoski, a sophomore, felt that taking part in Powder Puff was "heartwarming."
"I had an amazing time playing with my friends and seeing how football actually works," she said.
Naumoski came close to making a TD catch but the play was broken up near the goal line at the last second.
"I was running toward the open spot… then this girl came out of nowhere and pushed me," Naumoski recalled. "I lost my balance, fell to the ground and lost the ball. My friends helped me up and we ended up winning the game and coming in third place."
The freshmen put in a strong showing, relying on defense paced by Maryum Ahmed, Phoebe Myers and Rebecca Johnson. Myers and Johnson had interceptions while Ahmed excelled at blocking.
Key for the frosh was the support they received from their cheerleaders and those on the sideline.
"The team spirit was really good," Myers said. "We had boy cheerleaders in tutus. It was a fun game."
Mia Lobb, who pulled in a 20-yard TD pass from Megan Kohut, was energized by the support.
"Each time someone scored, they screamed out our names," Lobb noted.
***PHOTO GALLERY BELOW***