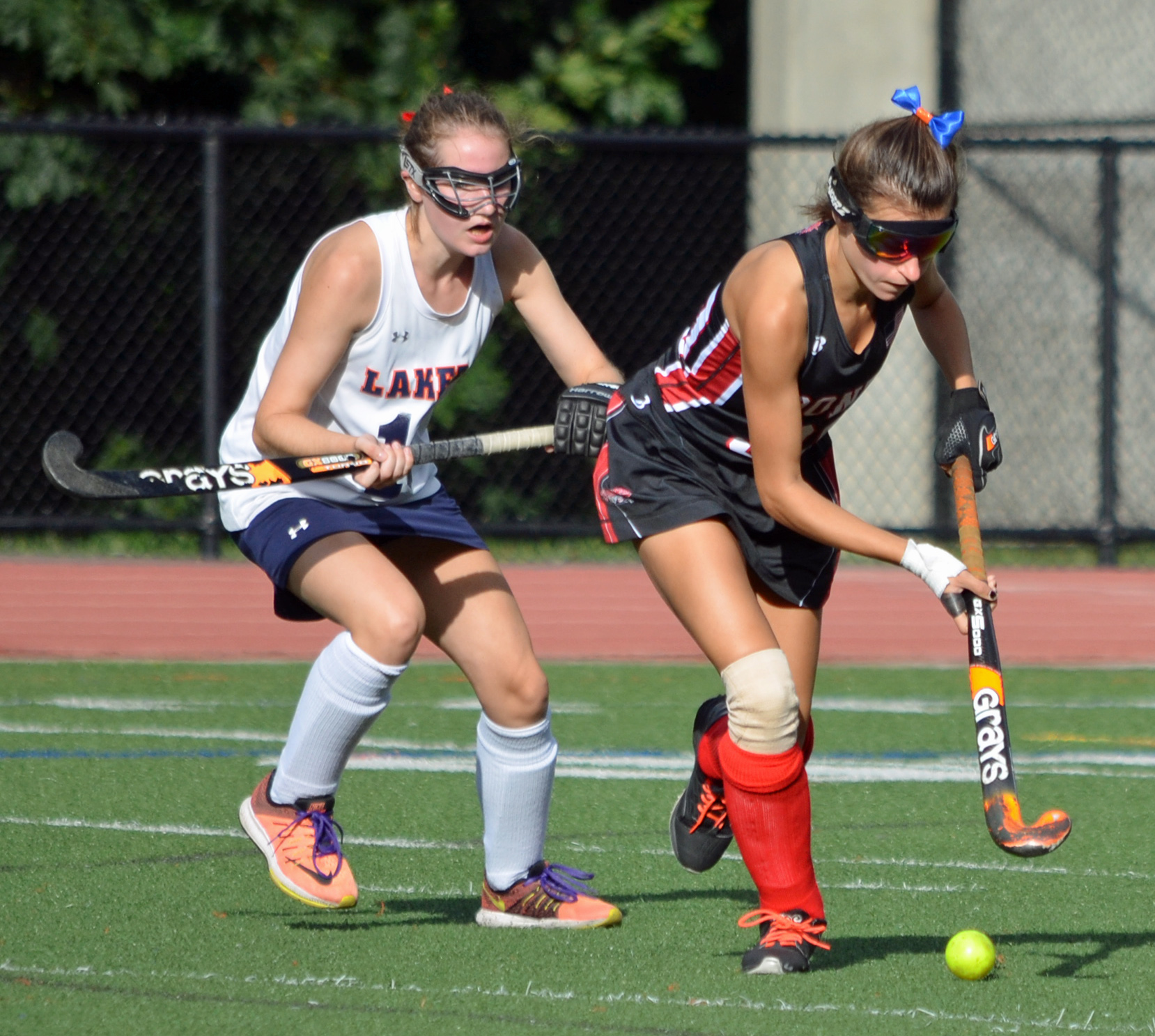 Read Time:
3 Minute, 43 Second
MOUNTAIN LAKES _ Brooke Olsson's objective this season is to score one goal per game.
By doing so, Olsson, junior forward, hopes she can alleviate some of the angst felt by the Boonton field hockey team last fall. Six of the Bombers' losses were by one goal and they lingered in the players' minds for too long.
It's only two games into the 2017 season and that's early but, thus far, Olsson has kept her word.
Olsson's goal off a reverse chip with 6:12 remaining capped the scoring for Boonton when it defeated neighboring Mountain Lakes 4-2 on Friday, Sept. 8. Nicole Krozser added a pair of goals and Kelly Mollahan also converted.
"We lost by one a lot," Olsson said. "When that happened, I always felt we could have done better. I want to leave games feeling satisfied. I don't want to lose by a goal."
Krozser, another junior, a midfielder, agreed. She found no joy or sense of achievement in one-goal setbacks, even against top-notch teams. Without some of those losses, the Bombers, who finished 9-11, likely would have been over .500.
"I felt so defeated," Krozser said. "We were so close so many times. We needed the third and fourth goals to push us over the edge today."
Boonton has triumphed in both of its games this season. Krozser put in a penalty-stroke goal in double overtime to lift the Bombers over Parsippany Hills 24 hours earlier, averting a disappointing outcome.
"We had one senior last year and the rest were juniors and sophomores," Boonton coach Cindy Tserkis-Schlitt said. "We had the talent but not enough experience. We're trying to figure it out. We had a rough 15 minutes at the beginning of the Parsippany Hills game and picked it up. We dominated most of the second half and the overtimes.
"We've been spending a lot of time on offense. We're strong-minded defensively but not aggressive enough. There was too much caution. I asked them to step up."
The Bombers asserted themselves early versus the Lakers, who notched an impressive opening-day win over Newton courtesy of a first-half goal by Gianna Buonopane, getting scores from Mollahan, a junior, and Krozser in a six-minute span. Mollahan connected 9:04 into the game, giving the visitors a 1-0 lead, after weaving her way past several defenders.
Macara Desai recorded Mountain Lakes' first goal 8:50 before halftime off a penalty stroke. Kroszer knocked the ball into the left side of the goal cage 11:31 into the second half, boosting Boonton's advantage to 3-1. The Lakers were awarded another penalty stroke with 11:08 left and they capitalized. Desai came through again, going upper left, to leave Mountain Lakes trailing, 3-2.
Prior to the second penalty stroke, Mountain Lakes (1-1) had five corners over a stretch of 1:02. The Lakers had another corner after the stroke, making for some tense moments for the Bombers.
"We were all pretty nervous (about the corners and stroke)," Krozser said. "It was getting near the end of the game. We were just trying to get the ball out."
"I have faith in our defensive corners," Olsson said. "We didn't want overtime."
Goalie Charlie Wagner was solid, making seven saves. Sophomore defender Lorraine Clark, also an ice hockey player, was at the core of the deep defense, coming up with three stick saves. Isabella Esposito had a stick save, too.
Clark, an all-conference first-team selection as a freshman, had 11 stick saves in 2016.
"Lorraine has great vision," Tserkis-Schlitt said. "She tucks into a corner and picks the ball off. She tracks it well and is patient. Lorraine is a smart player."
Senior center midfielder Makenna Sweeney put in a strong effort for Boonton as well and earned the praise of her coach.
"Makenna draws double teams all the time," Tserkis-Schlitt said. "She places the ball well, looks for feeds. She's very solid. Makenna is like a brick wall."
Olsson was elated by her reverse-chip goal, not only because it provided insurance but because she had been practicing it. Olsson took a shot just before scoring but it caromed off the goalie's pads.
"I missed. I just had to get it in," Olsson said. "This was my first reverse-chip goal. I usually do a reverse sweep. I'm really glad to win. It made everyone so happy."