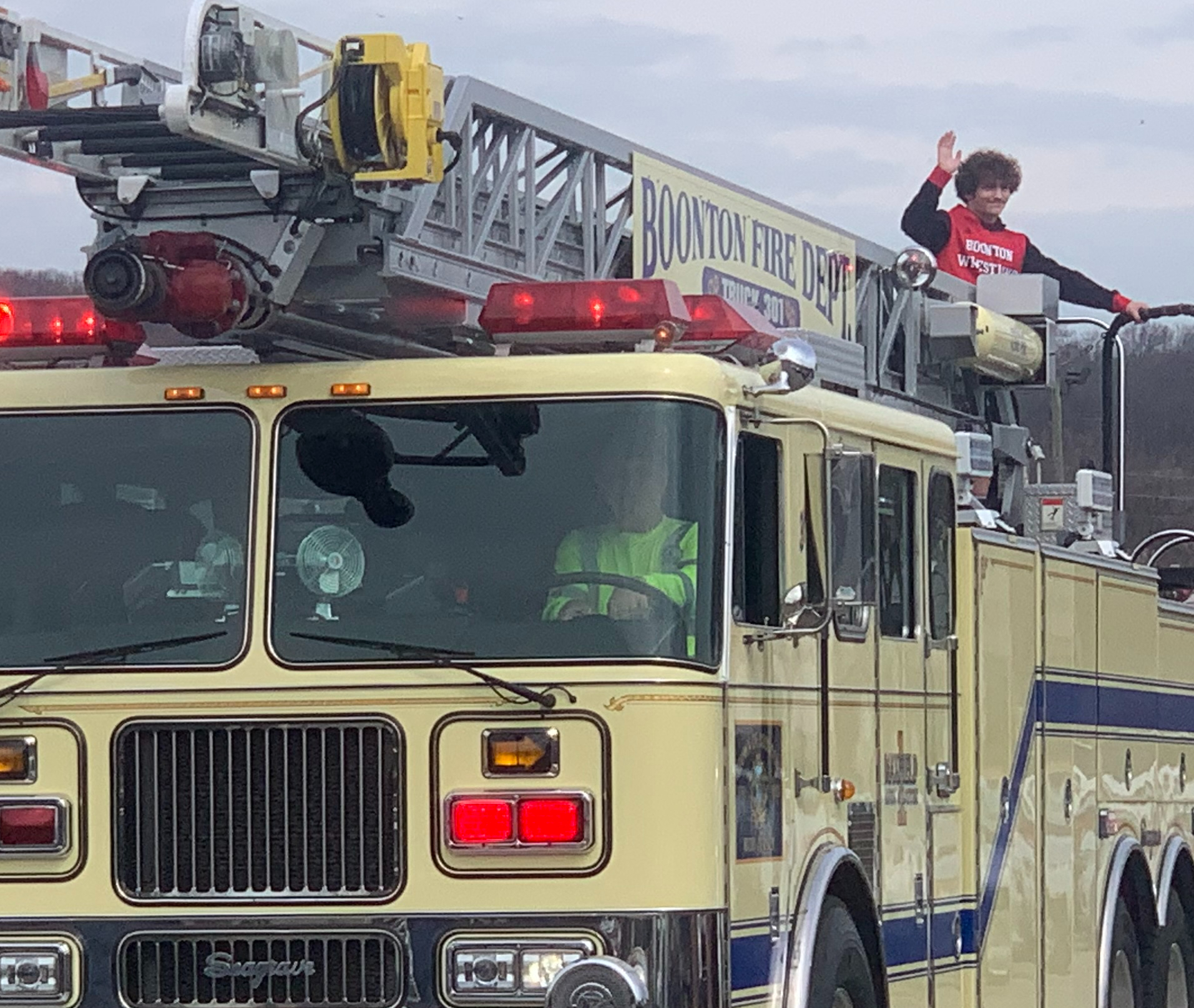 Read Time:
2 Minute, 49 Second
Senior Joe Fongaro attained the first individual state wrestling title since 1992 for Boonton High School when he edged top-seeded Ty Whalen of Clearview 10-9  in the 144-pound state final.
I conducted an interview with Joe, a Rutgers University commit, on his impressive run through the state tournament and his thoughts after his big upset and historic run at Boardwalk Hall in Atlantic City in early March 2022.
When asked his thoughts on his one-point victory Joe stated that "It was a crazy, crazy atmosphere." He celebrated with a post-game dinner with his coaches and family then was off to see his brother, Dan, wrestle.
"I drove to up to Columbia that same night and got to watch my brother wrestle the next morning," he said.
When conducting this interview, I got to see the importance of wrestling to Joe. It is not only a sport but it is a goal and a dream. His inspiration, he says, is Dan, a senior at Columbia University. His brother started wrestling at the age of 7 and Joe started at the same time, when he was only 3 years old. 
He says that "watching Dan be good made me want to be good and influenced my sister, too."
Julia, a freshman, was a runner-up at the NJSIAA Girls State Tournament this year. All of the members of Joe's family have a wrestling background and their love of the sport ties them together. 
Being state champion did not come easy to him, however. He has fought for this position since his freshman year and, although he has become more experienced, he struggled at the beginning of this season. He told me that he had to consider what was best for him in terms of weight class and that caused him to engage in some deep thinking. In the end, although he was smaller, he chose 144 pounds, which was where he felt most comfortable, and it played out in his favor. 
As a sophomore, Joe qualified for the state tournament. In 2020, he was fourth at the regionals. During his junior year, he was a regional champion before going on to the states and taking sixth.
He thanks his coaches and family for helping him along his journey and hopes to continue to improve day by day. 
Everyone at Boonton High School was thrilled about his win and the town's fire department joined in the celebration by bringing him onto school grounds on a fire truck. The student body stood on the football field waiting for him to appear. Joe, sixth at 132 pounds in 2021, and his wrestling teammates then took a lap around the track.
In response to the celebration he said, "It was awesome. I couldn't believe the amount of support and how crazy it was." 
Finally, he shared words of wisdom with aspiring athletes: "Keep working. You don't have to be great when you're young. Stick with it and work hard every day. It doesn't matter if you're not better than others. It matters if you're getting better every day." 
I was extremely honored to have conducted this interview. Like the rest of the students in our school, I am inspired by Joe and supportive of him and anticipate his future wrestling career will be filled with many significant accomplishments.