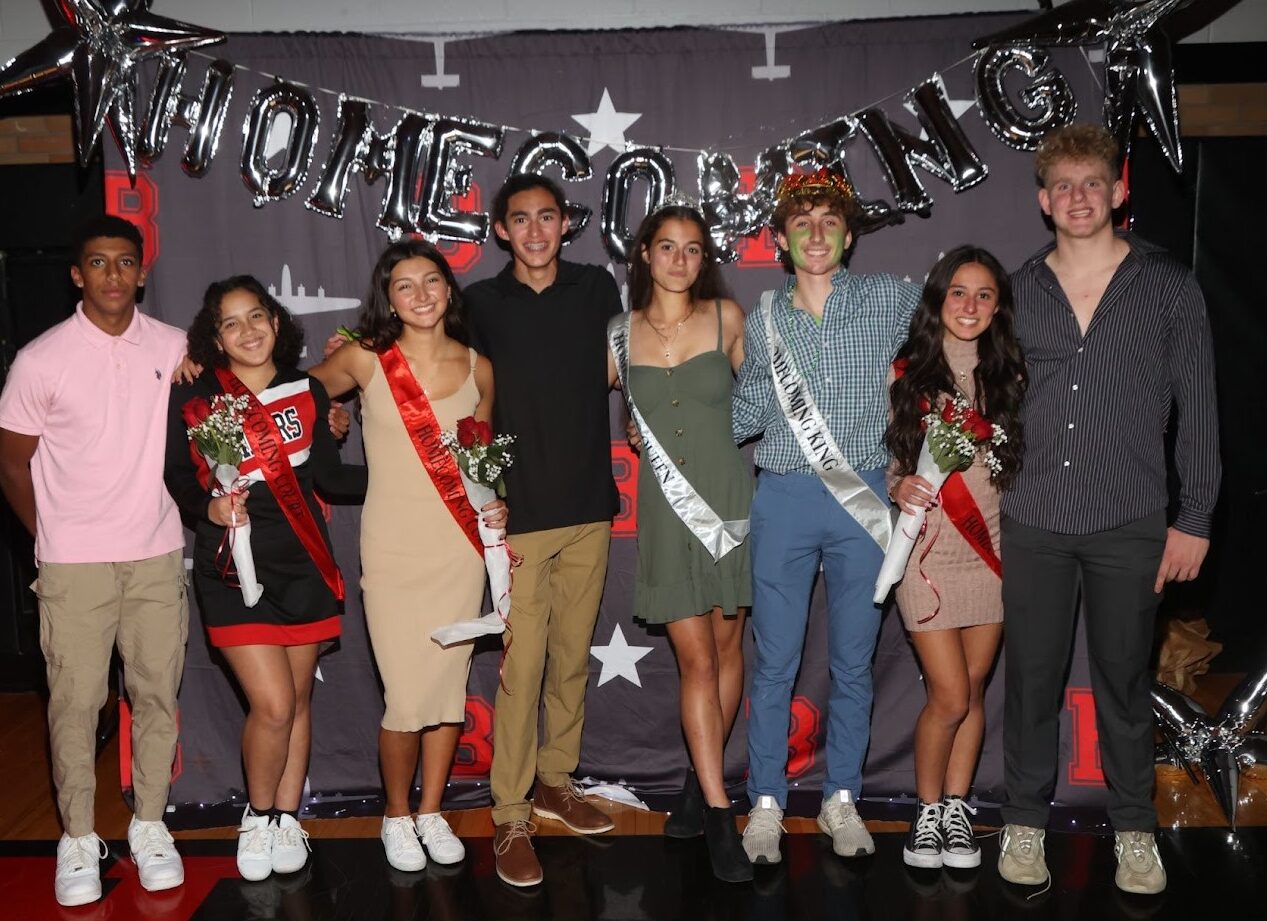 Read Time:
2 Minute, 51 Second
The crowning of the king and queen, a dance, an exciting football game and a spectacular sunset made Friday, Sept. 30 perfect for Boonton High School's 2022 Homecoming.
Fans wore green T-shirts to the game in support of Paul Esteves, who is battling Non-Hodgkins lymphoma. The football players donned green sleeves and cheerleaders wore green ribbons for Esteves. Admission to the game and donations were collected at the gate to assist the family during this difficult time.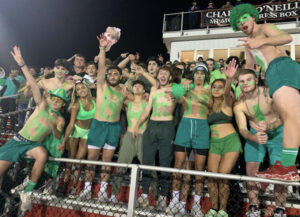 Of course, the big moment came when the names of the king and queen – Will Lobb and Bridget Giordano – were announced. The two seniors said they were surprised to be chosen by their classmates. The rest of the court consisted of Charlie Hurd, the prince, princess Adison Shollenberger, duke Sylas White, duchess Ashley Martinez, squire Gavin Shollenberger and maid Alexandria D'Angelo.
At halftime, the homecoming queen nominees were walked out onto the field by their friends and families. The nominees, Leala Mills, Jackie Martinez, Bridget Giordano and Lea Martinez were handed bouquets and anxiously waited to see who had the red roses. 
Bridget was surprised when she opened up her flowers and saw red.
"I had not been planning on this but I hoped everyone would have a great time," she said.
Asked her what her freshman self would think about her becoming homecoming queen.
"They would be very proud," Giordano said. "I accomplished a lot of goals, and my advice to freshmen out there is to take any opportunity to be involved during high school because it is really a lot of fun. I hope I inspire others to run and get out there no matter what anyone else thinks.
"Treat people with kindness. Thank you, Boonton High School. I am so honored to be the homecoming queen!"
Lobb, the first "B" for the BHS Bomb Squad, considered being king "fun and a cool experience." He still had glow-in-the-dark green on his face when the photos of the court were taken in the gym.
"Mrs. Sinatra told me I was doing it," Lobb said, referring to being a nominee. "I dressed up nicely. People told me they'd vote for me and I wanted to make Mrs. Sinatra proud."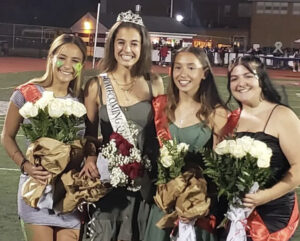 Lobb, who is considering sports marketing as a major, also said that he "was honored to represent my school and my classmates" and felt it "was a cool and fun experience."
Michelle McBride, adviser to the BHS Class of 2024, said that more than $2,000 has been raised to aid the Esteves family during their son's illness.
Adison Shollenberger, president of the 2024 class, is pleased with the support shown by the school district and community for Esteves.
"This is a great way to spread awareness about lymphoma in support of Paulie," Shollenberger said. "We are all in this together."
It was a memorable night all around, including the football game.  The Bombers fell, 28-21, to North Warren. Boonton took the lead, 21-20, on Eunwoo Hahm's 39-yard run wuth 3:07 remaining. Metin Ahmedi kicked the extra point.