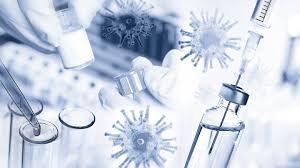 Read Time:
3 Minute, 25 Second
As I'm sure many people know, the COVID-19 vaccine has been released to some people in the U.S. in our fight to try and get the virus under control. In the approaching weeks and months when there is a higher supply of vaccines, there will be more available to the public. It's different in every state, but New Jersey has released it to both paid and unpaid health workers, residents and staff of communal care facilities, first responders, people over the age of 65, and 16 to 64-year-olds with certain medical conditions that increase the risk of severe illness from the virus. The Official Site of New Jersey gives three ways one can register to get the vaccine if they are eligible. You can pre-register and make an appointment through the NJ Vaccine Scheduling System, with a vaccination location, or through your workplace – if you happen to work at a select healthcare facility. 
Throughout New Jersey, vaccination sites opened including Atlantic City Convention Center in Atlantic County, Racetrack at Meadowlands in East Rutherford, Bergen County, Moorestown Mall in Burlington County, Rowan College of South Jersey in Gloucester County, New Jersey Convention, and Exposition Center in Edison, Middlesex County, and Rockaway Townsquare in Morris County. The best part of getting the COVID-19 vaccine is that it's cost-free! The vaccine doses are purchased using the U.S. taxpayer dollars and given to people at no cost. However, vaccination providers can charge people an administration fee for giving you the shot. This is with the exception of anyone who can't afford to pay their providers' administration fee. They cannot be denied a vaccine.
The way the vaccine works is that it helps your body form antibodies to fight a protein that is on the virus's surface. This helps your immune system attack the virus and fight it off. Unlike most vaccines, the COVID-19 vaccine doesn't carry any part of the actual virus in it, making it safer. There are two kinds of vaccines, the Pfizer-BioNTech vaccine, and the Moderna vaccine. The Pfizer is recommended for people 16 years of age and older while the Moderna is recommended for people 18 and older. When receiving the vaccine, you have to take it in two doses. The second dose should be taken after the recommended 3 weeks to 1 month waiting time, depending on which kind of vaccine you receive. 
Oftentimes, people ask about the side effects of the COVID-19 vaccine; they vary and should usually go away after a couple of days. Pain in the area of the arm where the shot was given includes soreness and swelling. To help make this go away doctors recommend using or exercising your arm and applying a clean, cool washcloth over the area. Side effects that affect the rest of your body include fever, flu-like symptoms, chills, tiredness, and headaches. Ask a doctor if you can take some over the counter medicine like ibuprofen and drink plenty of fluids to help these side effects go away. 
Not many, but some, people have had allergic reactions to the vaccine. The CDC gives clear instructions on how to deal with this and whether or not certain people should get vaccinated. There have been different levels of reactions, some severe and some non-severe, or immediate, allergic reactions. An allergic reaction gets classified as severe when the person involved needs to be treated with an EpiPen or if they need to go to the hospital. A non-severe allergic reaction usually happens after up to four hours and can include hives, swelling, or wheezing. If you have any level of allergy to any ingredient in an mRNA COVID-19 vaccine then you shouldn't take either vaccine. If, instead, you get an allergic reaction from the first dose of the vaccine, don't get the second dose; still from either a severe or non-severe reaction. Lastly, if you have any allergies to any other kinds of vaccines, consult a doctor before getting the COVID-19 vaccine.